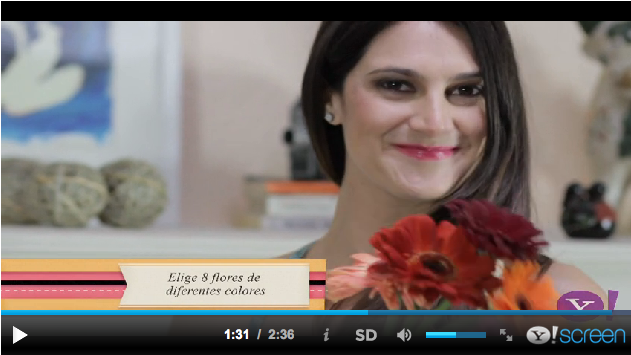 This week's Miss Ideas episode on Yahoo En Español teaches you how to make three different flower arrangements. One arrangement is tall, the other short and bunched up and the last consists of floating flowers. This was fun to make. For filming purposes we did not include the part where you should cut the flowers' stems under running water. Also, you don't have to follow the rules exactly as they appear on the screen. Those are meant to be guidelines. You can do whatever you want and get your own version of flower arrangements.
Click on the image above to view the video. To watch all of the Miss Ideas videos click here. Subscribe to my blog by clicking on the +Follow link at the bottom right of your screen to receive email alerts every time I publish a new post. Enjoy!!
En este episodio de Miss Ideas en Yahoo En Español aprenderán como hacer trés arreglos de flores sin pasar mucho trabajo. Un arreglo es alto, el otro corto y el último es con flores flotantes. Es muy lindo y moderno. Por razones de grabación, no incluimos la parte donde se deben de cortar los tallos de las flores debajo del agua. Tengan en cuenta que las instrucciones en la pantalla son guias y no necesariamente deben de seguirse al pie de la letra. Usenlo como quieran y seguramente terminarán con un arreglo muy bonito.
Hazle click a la imagen de arriba para ver el video. Para ver todos los episodios de Miss Ideas vaya aquí. Subscríbete a mi blog con hacerle click al link +Follow localizado a la derecha en la parte baja de tu monitor. Recibirás un email cada vez que publique un post nuevo. ¡Que lo disfruten!
Thank you for reading my blog! ¡Gracias por leer mi Blog!
Z~