Hi everyone!
Ever since I posted the "Before & After" post on covering my wall-to-wall mirrors with removable wallpaper, I've received several emails and questions regarding the options. (You can read the post here). I'm so glad you asked! Using temporary wallpaper is a great way to add personal style to any area of your home without making a full-blown commitment. This is a perfect alternative for renters, kids' rooms and for those designers that consider their homes a work-in-progress and are always changing their homes. Uhm, me… Here is your guide to temporary wallpaper!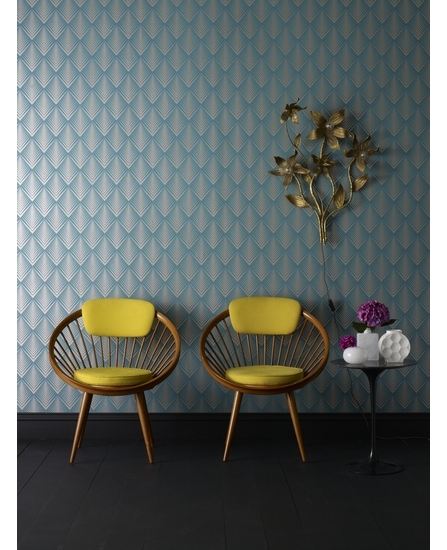 Looking for temporary wallpaper on your search engine can get a little convoluted. You may want to use some of these terms in your search engine; temporary wallpaper, removable wallpaper, wall tiles, wall decals, peel n' stick tiles, wall stickers, wall murals. The list goes on but these are the most popular names. If you want to cover a large space or an accent wall, I recommend you use the wall tiles or the murals. The decals and stickers tend to be smaller in scale and are usually in the shape of an object or words/phrases.
There are many options when it comes to temporary wallpaper. Solid colors, patterns, prints, words, borders and they all have one thing in common. They are easy to install and easy to remove. You don't need to call a professional and no adhesive or scraper is necessary. Some other great uses for temporary wallpaper include adhering it to a piece of furniture like a tabletop, or as a backdrop inside bookshelves, sticking it to a wall niche, and even attaching it to kitchen appliances! You can put these stickers just about anywhere!
Where to find temporary wallpaper?
Here are some of my favorite online stores that offer fabulous temporary wallpaper: Chasing Paper, Wallpops!, Spoonflower, Design Your Wall & 2Modern. Their designs have all been shown on this post. You can click on the images and it will take you directly to the item's location on the site. Decals are also available in a store near you! I've found that the best selections are in Target and Ikea. Take this Jonathan Adler Decal from Target, for example. So pretty!
I hope this post helped those with questions about temporary wallpaper. Have a great day and Thanks for reading!
Z~
You can +Follow my blog by clicking on the +Follow link at the bottom right of the page. Thx!