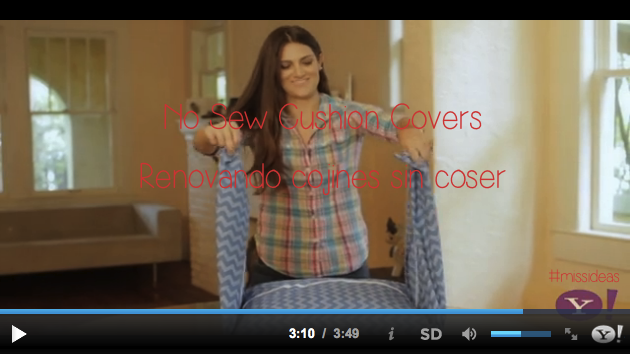 Si no tienes tiempo ni presupuesto para comprar un forro para tus cojines, te tenemos la solución aqui en Miss Ideas en Yahoo! Vean el video para ver como puedes hacer un forro con solo un pedazo de tela. Como decimos en Puerto Rico, ¡esto es un resuelve! ¡Que lo disfruten!  –Todavía estas a tiempo para votar por tu episodio favorito de la primera temporada AQUI. ¡Gracias!
Have you wanted to cover those ugly cushions on your couch for some time now but don't get around to it because it's too much money? Well, Miss Ideas on Yahoo has your perfect solution! Watch this video to learn how to make no-sew cushion covers with only some extra fabric. I hope you like it! — You still have time to vote for your favorite Miss Ideas episode from Season 1 HERE. Thanks for watching!
For more, can connect with me via Facebook. Para mas, me puedes conseguir via Facebook.
Saludos!