Hello readers!!!
In honor of Breast Cancer Awareness month, I've created this Think Pink board with all things pink that will definitely leave a smile on your face. I surely had fun picking them out. I just love how they all look classy and fun! Check it out!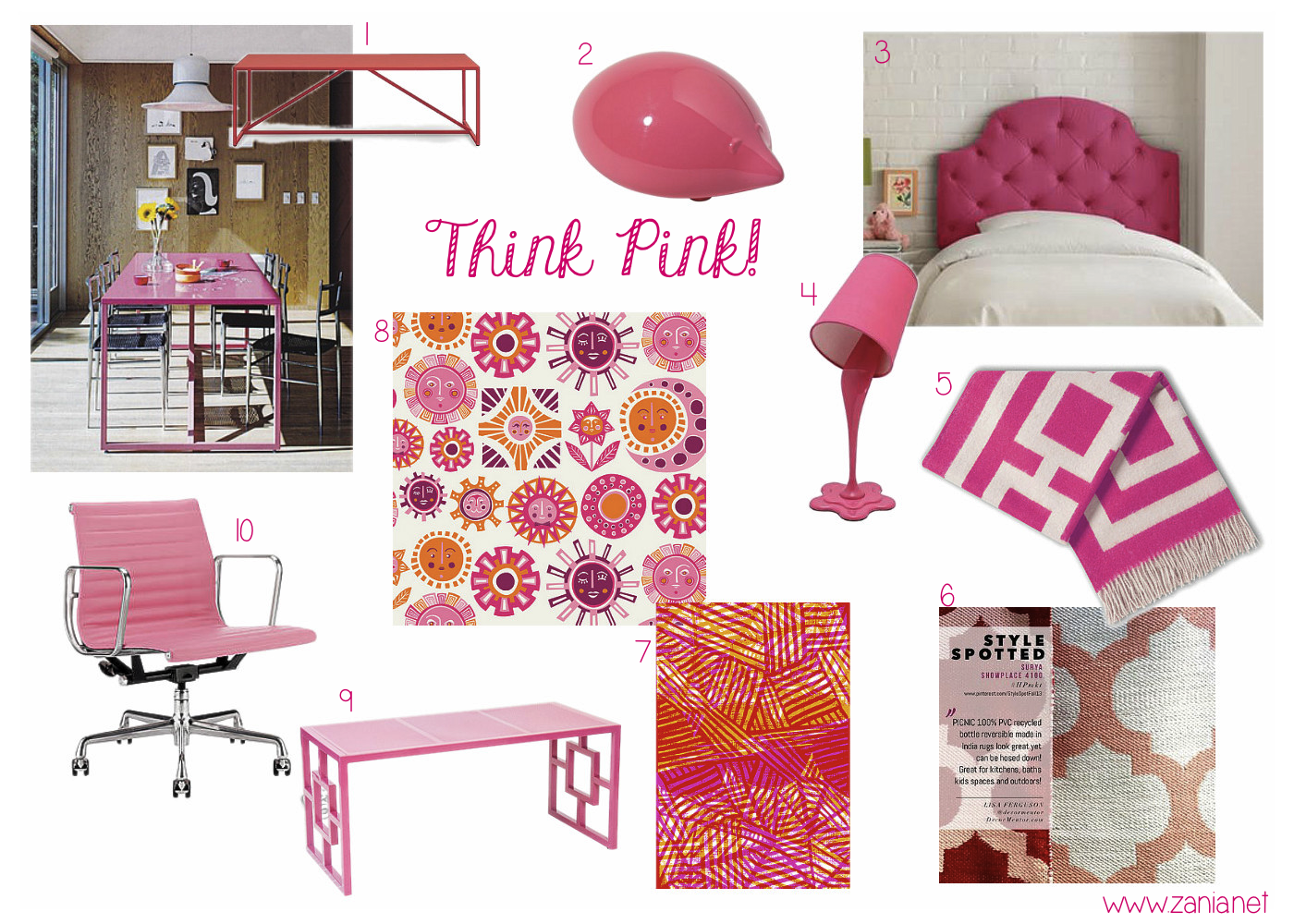 1. Strut X-Large Table in Watermelon from Blue Dot – This glossy baby is a looker. Would work great as a conference table too. Who wouldn't want to work with this as a backdrop?
2. Dozi Paperclip Holder by Alessi – This magnetic porcupine is so cute it hurts! Ouch!
3. Tori Collection Pink Diamond Tufted Headboard – No matter her age, the gal who sleeps with this headboard behind her will definitely have sweet dreams.
4. Woopsy Hot Pink Desk Lamp – Looks so real! Kids of any age will love this little piece of design in any space.
5. Jonathan Adler Throw Blanket Nixon Hot Pink at Layla Grace – I'm a huge fan of Jonathan Adler and this throw is just one of the many pieces I love from him. So soft too.
6. Picnic 100% PVC recycled rug from Surya – If recycled isn't enough, this is also an indoor/outdoor rug! How convenient!
7. Painted and Digital Pink and Orange Pattern Art – A series of three of these would be great on any wall. A nice touch of modern.
8. Jonathan Adler Wallpaper Sun Pink at Zinc Door – I mean, just look at this wallpaper! A touch of flare (pun intended) and whimsy from the man himself. Lovely. Try this on a niche, the inside of a trunk or accent wall!
9. Worlds Away Charleston Pink Indoor/Outdoor Bench – This is a great way to add color to any modern space. Imagine this over a green lawn! Beautiful combination of colors!
10. Pink Eames Management Chair on eBay auction – I love a comfy office chair. I hear Herman Miller doesn't disappoint. Well, honestly, who cares about comfort if your chair looks this good! LOL!
We all know someone who's been affected by breast cancer. If you can, make a donation to Susan G. Komen for the Cure HERE. Your help will be greatly appreciated. Also, ladies make sure to get screened for mammograms! Early detection is key!
As a side note, every year, Eugene, our Halloween skeleton (he lives on our front door for 31 days) wears his Pink Ribbon on his chest supporting the cause. Here's a pic!
I hope you are all doing fantastic and are planning fun Halloween festivities with friends and family.!! I'll be sharing mine on Instagram! Have a great day and thanks for reading! To see the more Think Pink! images on my Pinterest board click HERE. 
Side note: Thank you for your patience while moving this site to this new self-hosted site. We had some glitches along the way, but that was to be expected. After working in the technology industry for 5 years, I know that nothing is ever a smooth ride. As time goes by, I will be making improvements, additions and some editing on the features you see here. Thanks again for all your love and support! xoxo