Straight from The Baking Corner, here comes the November recipe: Chocolate Shortbread Logs adapted from the book "Cookiemania – 100 Irresistible Recipes for Cookiemaniacs". These delicious cookies are the perfect combination of crunchy and soft. So easy to bake and so delicious. I bet you already have the ingredients at home! The part where you dip the cookies in chocolate is my favorite! Perfect recipe for kids! Enjoy! ¡Buen Provecho!
Chocolate Shortbread Logs
Cookie:
1 cup butter – room temperature
2 cups flour
½ cup confectioners' sugar, sifted
1 teaspoon vanilla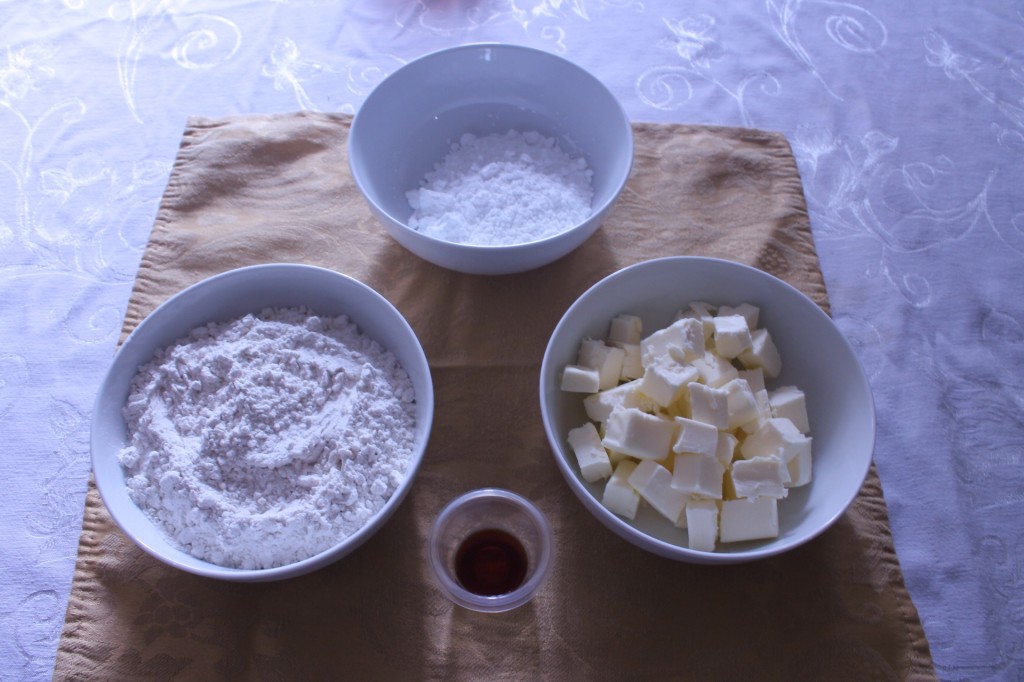 Frosting:
1 6 ounce package semisweet chocolate chips
1 tablespoon butter
½ cups pecans or pistachio nuts, chopped fine
Preheat oven to 350F
Cream butter, add flour, confectioners' sugar and vanilla and mix completely.
Using one teaspoonful of dough for each cookie; shape with hands into 2-inch long logs. Place 1 inch apart onto ungreased cookie sheet and bake 13 minutes.
Remove from cookie sheet while warm and cool thoroughly on wire rack.
Melt chocolate chips and butter in top of double boiler over (not in) hot water. (Tere's tip – in microwave safe bowl – heat at 25 second intervals and stir until completely melted)
Dip one end (or both ends) of each cookie into chocolate and place on a cookie sheet lined with wax paper or parchment paper.  Sprinkle nuts on chocolate ends and refrigerate until firm (about 1 hour) and maybe kept in the refrigerator stored in covered container.
Special thanks to the gals from The Baking Corner, Tere and Meli, for another delicious recipe! Thanks for reading!!
For more recipes from The Baking Corner CLICK HERE!