Hello hello beautiful readers!
How many of you want more money? If you didn't say "me" then there's something wrong with you. LOL! We all want more money! And guess what? There's absolutely nothing wrong with saying that. Saying you want more money doesn't necessarily mean you are greedy. You want more money because you want to put yourself in a position where YOU and your clients seriously respect and value YOU. You want more money because YOU want to provide security for yourself and/or your family. You want more money because having it feels Hella Good! Doesn't it?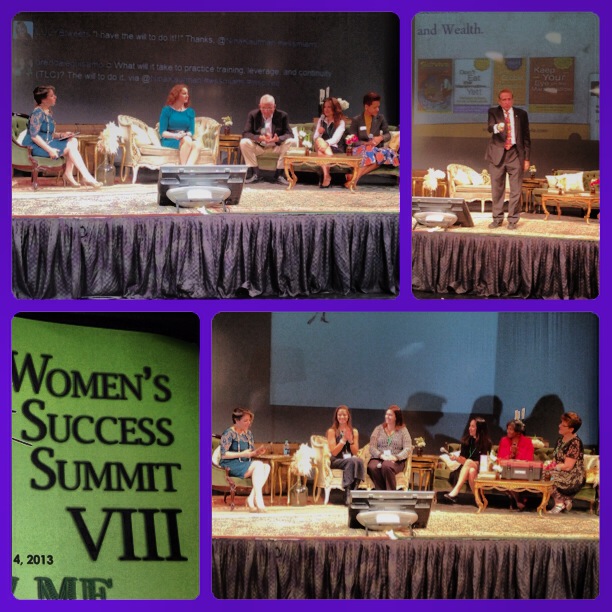 Then ask yourself this: Are you worth what you're getting paid? Are you working yourself to the core and not seeing financial results to your liking? What are your thoughts on Money? Ultimately, do you know your financial worth?
All of these questions were addressed last week at the Women's Success Summit in Miami which is organized by the charismatic and award-winning entrepreneur, Michelle Villalobos. I went to the first summit in May (read that post HERE) and it was so good I had to come back. This summit gives women entrepreneurs the tools and guidance to dream big and help them grow their business. This time, the theme was; "Show Me the Money". That's right. Money. I second that. Woop Woop!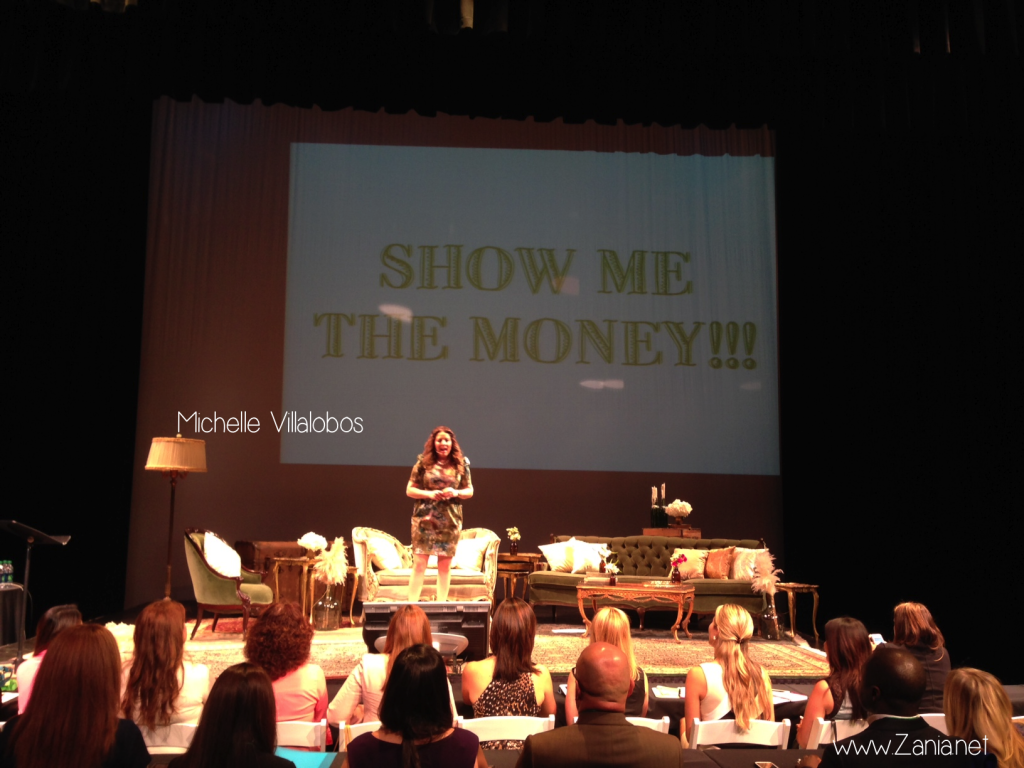 Here are 7 quotes and lessons that I found interesting, insightful and helpful. If you follow this advice your money 'mojo' will surely change! Most attendees, including myself, had some serious "Ah-ha" moments. I've narrowed them down for you here.
"When women have money, businesses, communities and charities do better" – Michelle Villalobos. This is so true. You may have read in my post (HERE) about the CNN Movie "Girl Rising" that women are the direct agents of change in developing countries. Why? Women are naturally wired to GIVE. Women are innate caregivers and like Michelle said; "We have the ability to increase power and influence". Amen sista'. This is why the women of this world need more money.
An important aspect of money is how you think about it. That's called your Money Mindset. This is most likely what is hindering you from getting more of it. As the powerful Mina Shah states; "Being smart doesn't guarantee financial success… Working hard is just one ingredient in creating financial success… Making a lot of money doesn't necessarily mean financial success… Money is neutral" – Mina Shah. How do you look at money? If you fear it, then you have nothing to gain from it. You have to think of it as a neutral, non emotional thing. Don't fear it. Retrain your brain to look at it differently. During her exercise, I started to see that for me Money = Peace of mind. No need to get nervous, anxious or fearful. Your Money Mindset is crucial in taking the right steps that will lead you to financial freedom. Mina is a powerhouse. You should read more about her HERE.
This money mindset goes hand-in-hand with the quote from Wayne Dyre that speaker Bert Oliva repeated several times for a very good reason, "

change the way you look at things and the things you look at change.

" I love this quote and it is absolutely truthful.
"

Use philanthropy to tell your story. People will fall in love with you.

" – Jessica Kizorek. Having traveled all over the world documenting the calamities, problems and breakthroughs of other towns and cultures,  Jessica explains how telling potential clients about your support for charities lets them know that there's a higher purpose behind your work. Companies also benefit from this for numerous reasons such as marketing. This will surely help you make more money in the long run.
"

Lack of trust makes everything slower and more expensive.

" – Joachim de Posada. This is a big one. By taking full control of everything (aka lack of trust, aka micro-managing) you lose money. Whenever that happens, you have set yourself up for failure because one person will never be able to handle what 3 others were hired to do. No one will ever work exactly as you do because there is only one You! Get over yourself! Delegate. (I don't mean to be harsh, but I've seen this one with my very own eyes and it is lethal to your mind, your body and your company). You are not able to do it all. Get help in those areas that you are not good at or hate doing. You'll reap the benefits in the end. Which is a great segue into…
"

Sacrifice now to get paid later.

" – Joachim de Posada. This is called self-discipline. A million dollars overnight only happens to lottery winners and most of them end up spending it all. This is exactly what I'm doing now, my friends. Sacrificing now to get amazing results later. It is one of the hardest things ever, but I believe in myself now more than ever and I vow to not let myself down.
And most importantly, "

Have a plan

" – Jody Johnson. Three little words that will make a hell of a difference. You should try it. It works.
These were some of the suggestions that I took from the event. (There were many more, but these seemed fitting for this post). Now it's time to implement them. That's the hard part. It takes a lot of brain power and courage to break down the walls and move forward. In the end, I know my worth. I know the value of my time. I also know how to decorate. So, this means that pretty soon you will see the cost of my services go up. Why? Because I love what I do and I do it well. In the meantime, I'm doing more and more planning. At least you get this blog for Free! LOL!
Did any of the points I mentioned above hit you in the gut? Or maybe gave you an "Ah-ha" moment? Want to learn more about the speakers mentioned above? You can read more about them here:
Michelle Villalobos, Founder of the Women's Success Summit – @Mivi – www.michellevillalobos.com
Mina Shah, professional speaker, trainer and strategic coach – @MightyMinaShah – www.minashah.com
Bert Oliva, professional speaker, trainer, entrepreneur – @BertOliva @Bowaworld – www.bowaworld.com
Jessica Kizorek, video producer and award winning badass business woman – @JessicaKizorek – www.jessicakizorek.com
Jody Johnson, Business Coach – www.actioncoachteamsage.com
Joachim de Posada, motivational speaker and author of "Don't Eat the Marshmallow, Yet!" – @JoachimDePosada – www.joachimdeposada.com
Watch Joachim de Posada's insightful Ted Talk Here:
Thanks for reading, and Go out there and make some Money Honey!! Oh, and don't forget to sign up for my newsletter in the above column on the right. I promise I won't send you a million emails. I hate it when people do it to me, so I won't abuse it.