Hey future mamas and papas! Listen up! In the short amount of time it takes to prepare for a baby that's on the way, there are way too many decisions to make. What type of crib do we get? Which doctor will deliver our munchkin? What stroller best fits our lifestyle? How are we going to decorate the nursery? While it's all very exciting, it's also exhausting. As a new mom, I want to share my list of must have items that helped me a lot during the insanity of the first three months of a child's life.
The sooner you prepare, the better. Life gets a heck of a lot more complicated after that baby comes into the world. Something as trivial as getting milk at the grocery store all of a sudden turns into an episode of The Amazing Race. Seriously. I hope the items listed below give you a bit more insight into post-birth must haves!
Trustworthy Breast Pump
You need a reliable and portable breast pump if you want to be able to pump effectively and on-the-go (should you choose to breastfeed, and it's totally up to you). I got the Medela in Style Advanced Breast Pump with the car charger adapter and the cooler. While getting the life sucked out of me wasn't the greatest thing ever, this pump was easy to use, effective, reliable and painless! I used it at home, while traveling and at work. I didn't have the fancy bag, but it wasn't necessary. Oh, and for the love of all things mighty, please get a hands free band/bustier. This will give you the freedom to scroll through Instagram at 3am or read about baby's development. If you want to be discrete when breastfeeding/pumping, these Hooter Hiders by Bebe Au Lait were some of the cutest and functional nursing covers I found. There are so many ugly ones out there!
IMPORTANT TIP: Some insurances cover the cost of a breast pump so make sure you contact a company like Aeroflow Breastpumps to check if you qualify. They do all the work for you!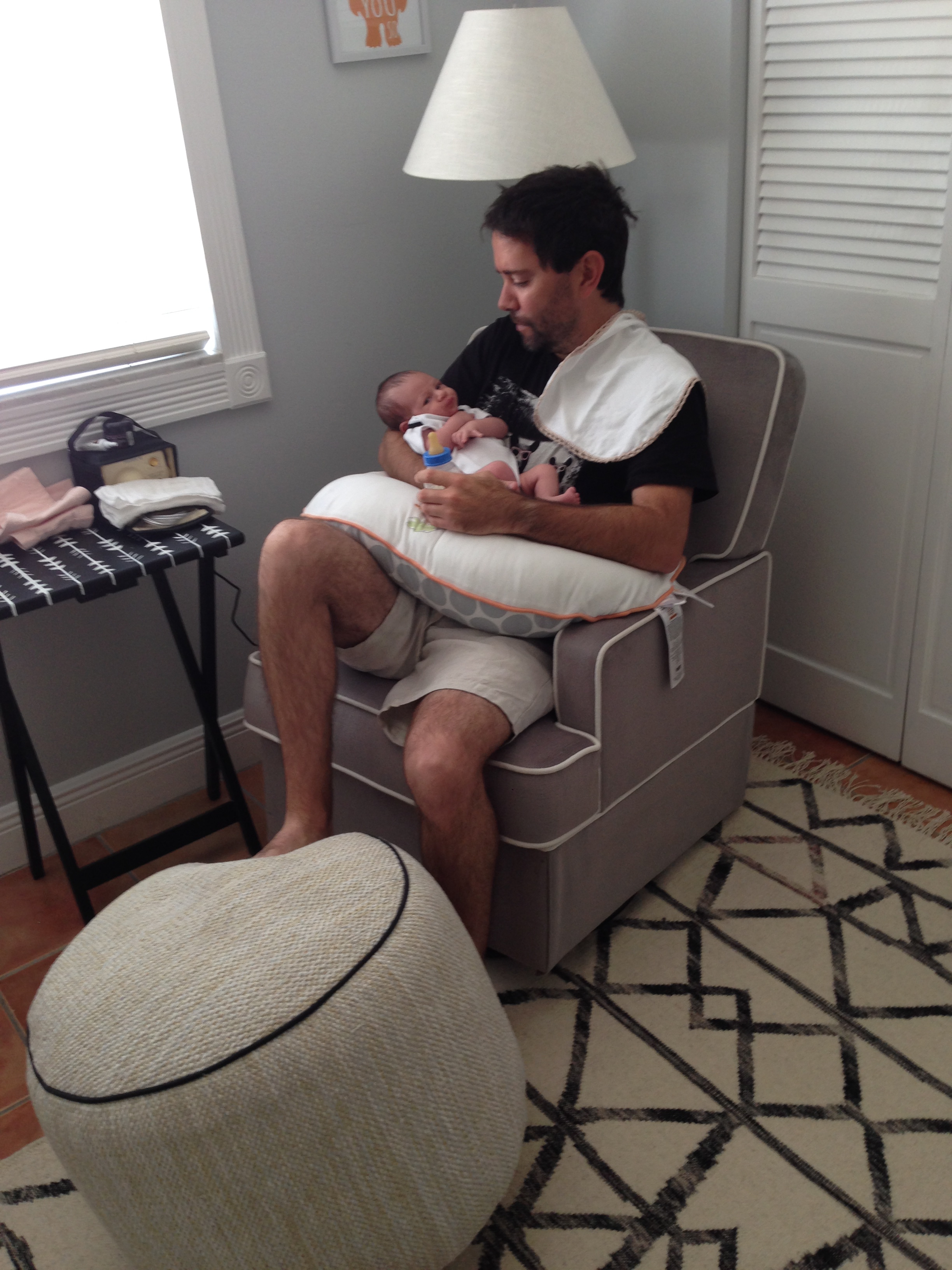 Glider
Feeding your baby in a comfy glider is the best! They aren't cheap, but I promise you it will go a long way. Target has a great selection as seen here. While rocking chairs and modern contraptions may seem like nice decorative pieces, they are definitely not functional and incredibly uncomfortable for a new mom, dad and baby. The one I got is no longer available online but if I find it somewhere I'll add the link to this post.
Baby Carrier/Slings
Baby Carriers or slings are very practical when you need to move around freely and even more so when traveling. There a ka-billion different baby carriers out there and even more so opinions on them. Choose whatever is best for you and your baby. We got the Original Baby Bjorn carrier and it worked very well. Our newborn fell asleep in it very quickly and it allowed for us to move around while he slept. In hindsight, though, I would have wanted a larger carrier with better lower back support for our growing baby. See image of me wearing the Baby Bjorn here.
Tub
This whale of a tub is wonderful! I wanted something that I could set up at counter height in our bathroom counter. Our bathroom is the warmest place in our house so we wanted to make sure our little Alfie was comfortable during his bath time. He loved this tub and quickly starting kicking water everywhere. The one bad this is that it's not collapsible. Not good for storage. We actually took this tub to the beach and filled it with ocean water.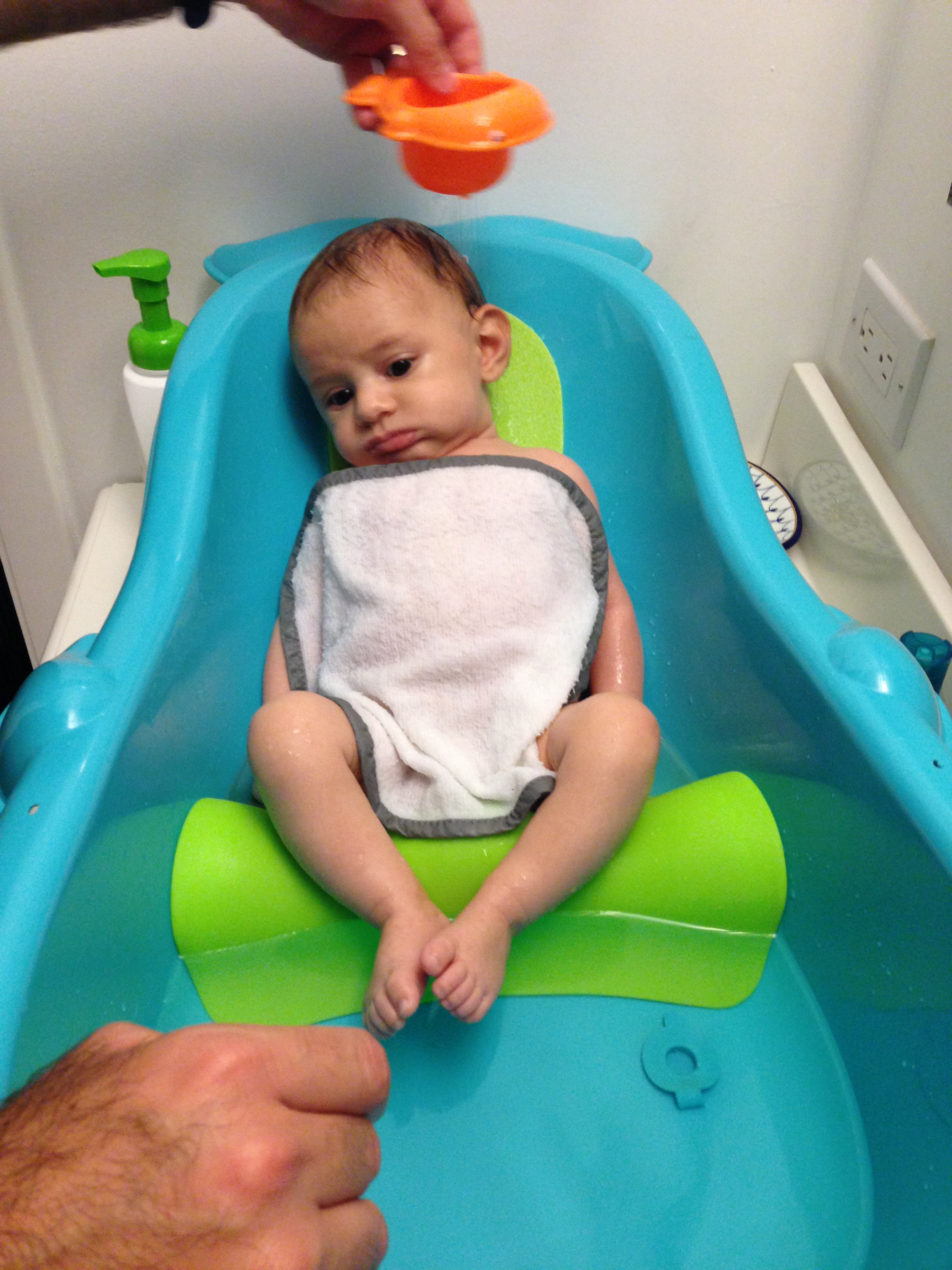 Swing
You want to keep your baby comfy and entertained while he/she is awake. A hands-free way of doing that is with a swing. We took our Rockaroo to the kitchen every morning and hooked it up to my phone while Alfie rocked to Rock-a-bye Baby covers. We would take that to the living room and on difficult nights, Alfie slept in it.
There are a million other items I can list such as a video monitor, swaddle blankets, boppy pillow, activity gyms etc. The items listed above just so happen to be the ones that I kept going back to all the time.
I hope you found this post useful! If so, please leave a comment below or contact me here if you have any questions! I'd be happy to help!
Thanks for reading!