Hello there!
I have great news! This post right here marks Zania.net's 100th blog post!! Woo hoo!! And to celebrate, I'm sharing with you one of my favorite DIY projects EVER!!! This is how to make an envelope pillow with glue!
I love changing things around my house all the time and one small item in any home that can immediately alter its style are the decorative pillows. Would you agree? Using these pillows in your home is a very simple way to update a room or change it's mood. However, some of these covers and pillows can be ridiculously expensive. Being a DIYer at heart, I wanted to take on this challenge. However, since I don't know how to sew, I wanted to find a tutorial where I didn't need to use any needles, threads or sewing machine. So… I set out on a mission. Finally, after some digging, I found this wonderful post on LiveLoveDIY that changed my life!  I knew there was a way to do this! Now I share this with you because it's too good not to share!
Materials
Fabric
Scissors
Measuring tape/ruler whatever you want to use
Liquid Stitch glue or Unique Stitch glue

Making the Envelope Pillow
Measure the pillow that you want to cover. Mine was 18×18 so I'll use those measurements for this tutorial.
Cut out the first square out of your fabric 18×18. Cut out another two panels with the entire length (18 in my case) and at least 5 inches past the half way width mark of your pillow. For example, the original width of my pillow is 18 inches. Half of 18 is 9 plus 5 inches is 14. You want these side panels to overlap because if they don't you'll be left with an unattractive hole in the middle. You might want to add 6 inches instead of 5 if your pillows are fuller. Trust me on this! LiveLoveDIY has a great image of these cuts HERE.
Place the square panel right side up. If you have a particular image that you want to be featuring, make sure it is facing up and is straight at this time. This is the front of your pillow cover.
Now, place one of the other panels face down on top of the square panel matching up the pattern (if applicable). Place the other panel face down on top of this one to verify that they are well cut and align perfectly with the square panel. Remove the top panel (the last one you placed) once you've confirmed that all panels are in alignment.
Now it's time to glue the fabric together. You will glue the edges from top to bottom first. Squeeze a line down the edge of the fabric all the way from top to bottom and then stick the fabric together. NOTE: I like to place a paper towel between the fabric and your table. Sometimes the glue runs through the fabric. You don't want it to stick to your table surface. I also like to use the end of the glue tube to spread the glue out. Please also note that I did not take pictures of the process for the first panel. The following pictures are of step #8 which essentially contains all the info you need to know but the pictures reflect the third and last panel. Oops!
Next, you will take the flap of that same panel and turn it out to create a pretty edge. Glue it together. NOTE: Place a paper towel between the flap and the square panel that is facing up to prevent sticking the front part of your cushion.
Now you will glue the top and bottom edges of the panel to the square panel.
Repeat steps 6-8 with the third and last panel.
You'll now see that you've created the envelope. Leave to dry overnight or according to the instructions on the glue stick.
Once dry, turn the pillow cover inside out and stuff it with your pillow.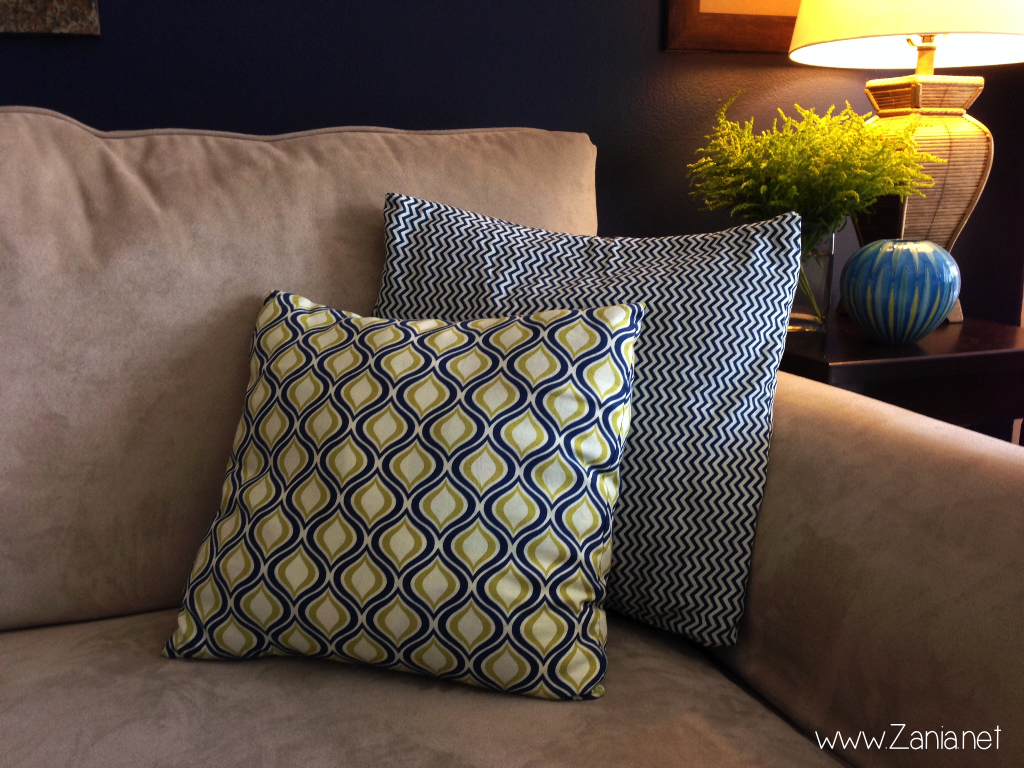 Voilá! Aren't these adorable? I hope you enjoy making these as much as I did! I ended up making 6 pillows so far! If you run into any issues or have any questions about this tutorial, please email me. I will gladly answer your questions. Also, if this sounds too complicated, you can check out this super, duper, easy, peasy tutorial that I did for Yahoo! Mujer on Miss Ideas. This one is really fast and convenient. All you need is fabric and that's it!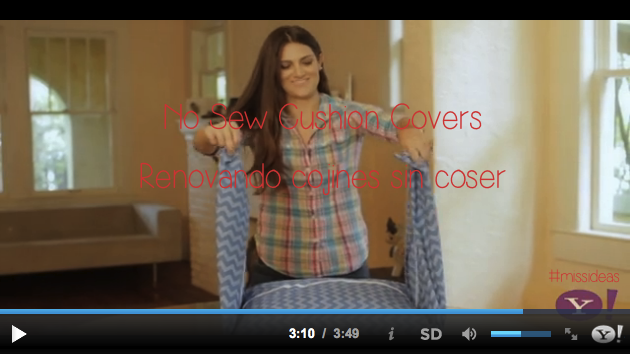 Hope you have a wonderful day!

Love what you Z? Sign up for my newsletter on the right column of this page for more fun stuff and then share this post with your friends!