Hi everyone!
Here's my latest E-Decorating project! This inspiration board belongs to a dear friend, Gaby, who has fabulous style but runs a very busy life. Enter, Zania… Gaby is full of life and there's not a day that goes by that she's not dressed to the nines. While she has her regular 9-to-5 job at a well-known media company, she is also an entrepreneur in the fashion industry. (Check out her online clothing site AlmaMei. I also borrowed a necklace from her line for my music video). Not only is she following her dreams, but she is also contributing to a greater cause through her passion. Who doesn't love that?! Bravo! Needless to say, when she asked for my help in decorating her dining room, I knew exactly how to reflect her personality through decor. I call it: Fearless Chic!
Gaby deserves a beautiful space to go home to. So let's give her apartment some LOVE!  Just to give you an idea of the dining space, it receives almost no direct natural light and it's also in a part of the apartment that is a high-traffic area. The kitchen, bedroom, living room and front door entrances are next to it. So, playing with lighting and functionality is key in making this work. Gaby had already been scouting the acrylic ghost chairs you see in the inspiration board, so I used that as my starting point. Enjoy!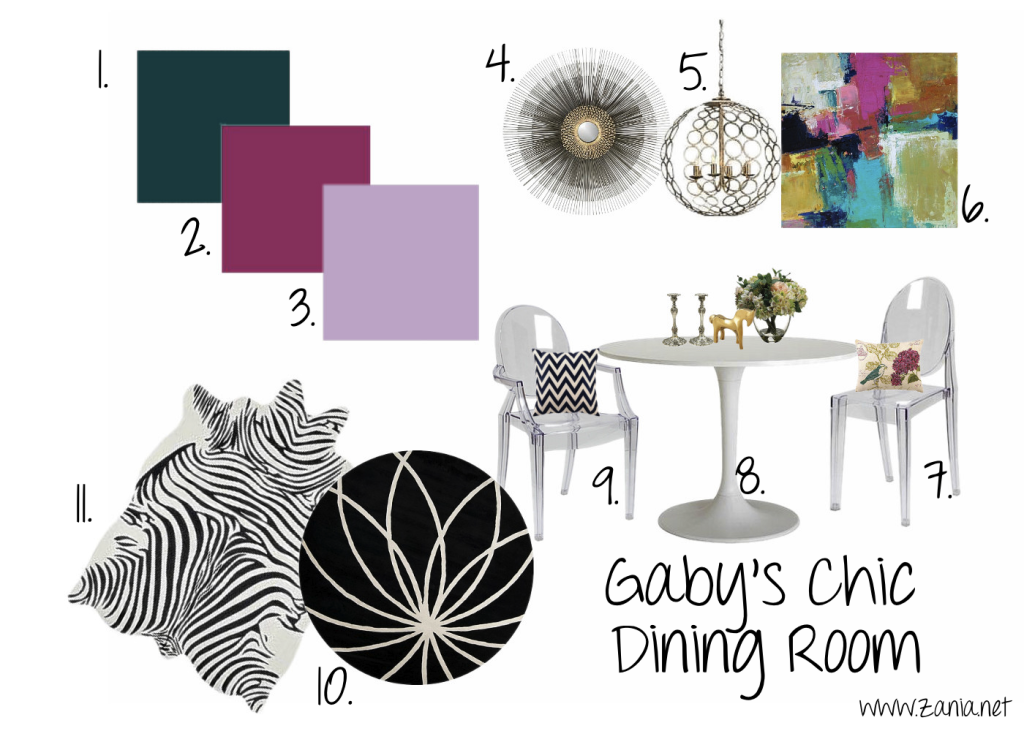 1. SW 0064 Blue Peacock |2. SW 6841 Dynamo | 3. SW 6973 Free Spirit | 4. Starburst Wall Mirror, CB2 | 5. Tartufo Chandelier | 6. 'Moira', Zatista | 7. Ghost Side Chair | 8. Docksta table, Ikea | 9. Ghost Side Chair with Arms | 10. Forum in B&W | 11. Safavieh Faux Zebra B&W
Do you like what you see? You could have this look too! Click on the list of items above for their prices and online store site. If you want custom decor for your home without the work of looking for stuff yourself, then you're in luck! I offer E-Decorating services. Click HERE to find out about E-Decorating and HERE for a list of services and pricing.
Details about the items above
These colors from Sherwin Williams are bold-color inspirations. I would choose either the Blue Peacock or the Free Spirit for full-on, wall-to-wall color. Dynamo is a great accent color for accessories. However, we've yet to make that decision since we are also talking about using temporary wallpaper, which is a great option for renters who want to add an extra layer of style and texture.
I suggested the idea of having a sun-burst mirrors wall because; 1. They are so beautiful and classy and 2. They will reflect the light that comes in from the sliding door, which is the only source of natural light in that area. That area tends to be darker since it's so pulled back from the light. We want to brighten up the space, and we need all the natural light we can get! Colorful art is a great option too for the dining room walls. You can find beautiful and affordable art pieces through this post from Apartment Therapy.
This particular pendant light that I added to the inspiration board is a splurge. However, you can find something similar and hang it. It is just absolutely stunning yet simple. Any type of metallic item added to a space will automatically make it look a little more elevated and elegant. After all, it really is like jewelry for the home.
The table and chairs are very modern. They will automatically catch your eye, yet they are still understated and give the illusion of ample space. A round table is perfect for this space since there is a lot of traffic and it allows for extra seating of 4 or 6, if necessary. Round tables are more conducive to conversation too, which is great for Gaby during those late night Alma Mei meetings at her home.
Now for the rug options. I didn't want a rigid square or rectangle for the space, even though we technically could use them. The round rug is a great option but you have to make sure that it's big enough to fit under the chairs once they are pulled back. You don't want the chairs to be half in, half out. It's just not pretty. This rule is a lot more flexible when you have an odd shaped rug like the zebra cow hide option. That rug also adds another unexpected element to the space and it's totally chic.
I'm excited to see how this inspiration board turns into a reality. Like almost all inspirations boards, not everything goes as planned. It's part of the process and it's so much fun! Once Gaby starts decorating I'll share with you the Before, During and After pictures so that you can see the progress!
Thanks for reading & have a Fab-Tuesday!

If you have any questions, you are more than welcome to ask me anything! Click HERE to contact me through email or you can also find me on Facebook & Instagram.